HODAG CHIROPRACTIC
At Hodag Chiropractic, we want to help you and your family enjoy optimal health. Call today to schedule an appointment!
Rhinelander Chiropractor Provides Care You Can Trust
The Whole Family Can Maximize Their Well-Being at Hodag Chiropractic
Helping families thrive is our passion at Hodag Chiropractic! Rhinelander Chiropractor Dr. Grace Nash is committed to providing expert chiropractic care, so everyone from newborns on up through great-great grandparents can optimize their health and well-being. Our close-knit staff and cozy office make patients feel at home and create a sense of community and belonging.
Emphasis on educating patients about the significance of chiropractic care in maintaining a healthy nervous system
Utilization of INSiGHT™ neurological scanners for identifying nervous system interference
Implementation of precise adjustments to alleviate pressure and restore proper functioning
Relying on scan results and examination findings for a clear understanding of the patient's condition
Focus on addressing the underlying cause of symptoms or issues to promote long-term wellness
Benefits of Our Small-Town Approach
Our office reflects the friendly, small-town atmosphere of Rhinelander—we're warm and welcoming, and we have created an environment where everyone feels comfortable and at ease. Kids are free to be kids, roam freely around the office, and have a fun experience here. Even if your child isn't being adjusted, you are welcome to bring them to your appointment. There's no need to worry if they can't sit still or stay in a seat.
Personalized Attention
Our small-town approach ensures individualized treatment and personalized attention.
Accessible care
Conveniently located in a small town, chiropractic services are easily accessible for regular visits and follow-ups.
Holistic approach
We embrace a holistic approach, addressing physical, emotional, and lifestyle factors for comprehensive care.
Community Connection
We enjoy our strong ties to the community, fostering a sense of trust and familiarity.
Long-lasting Relationships
We have strong ties to the community, fostering a sense of trust and familiarity.
Meet Our Experienced Chiropractor
Dr. Grace graduated from Northwestern Health Sciences University and began practicing in 2011. She practiced in Tomahawk for six years before coming home to Rhinelander, where she grew up. She loves caring for every member of the family, including infants, kids and pregnant women.
When you meet Dr. Grace for the first visit, she'll spend some time building a connection so she can understand not only your condition and symptoms, but also your needs and goals. She strives to help patients feel at home and safe with us—chances are good that we have seen many others in the same situation you're in, and we've been able to help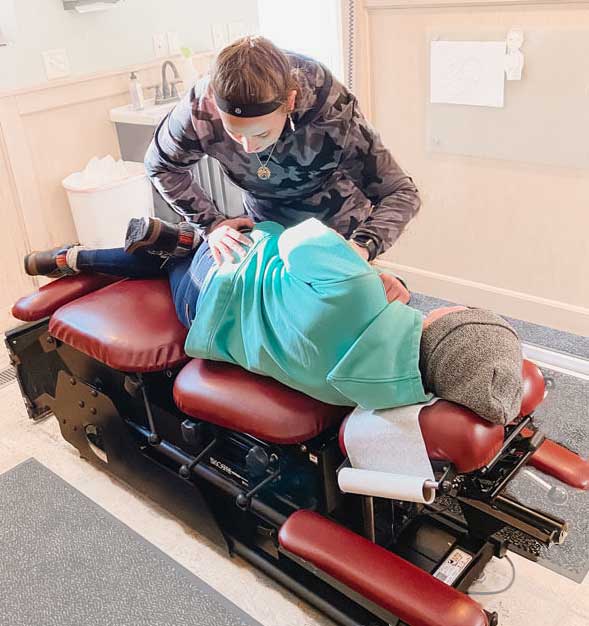 "Dr. Grace has been amazing the last 5 years we have been seeing her. She has helped me during my pregnancies and has always given my kids the best possible care all through Infancy to their toddler years."
"The difference myself and kids feel after each adjustment is incredible! The staff is phenomenal and does an amazing job fitting our chaotic schedules. We love seeing Dr. Grace!"
"I always have a great experience! I always feel so much better after coming! Everyone is super sweet and kind and they truly care. If you need a great chiropractic experience go there!! Thanks to the great team! ♥️"
We offer a free, no-obligation consultation that includes the INSiGHT™ neuro scan and a chat with Dr. Grace. If chiropractic is not a good fit for your condition, we'll help you get to the right type of provider.
We're open late, and we are in-network with most insurance plans, including Medicare and Medicaid. Contact us today to schedule an appointment for excellent family chiropractic care in Rhinelander.